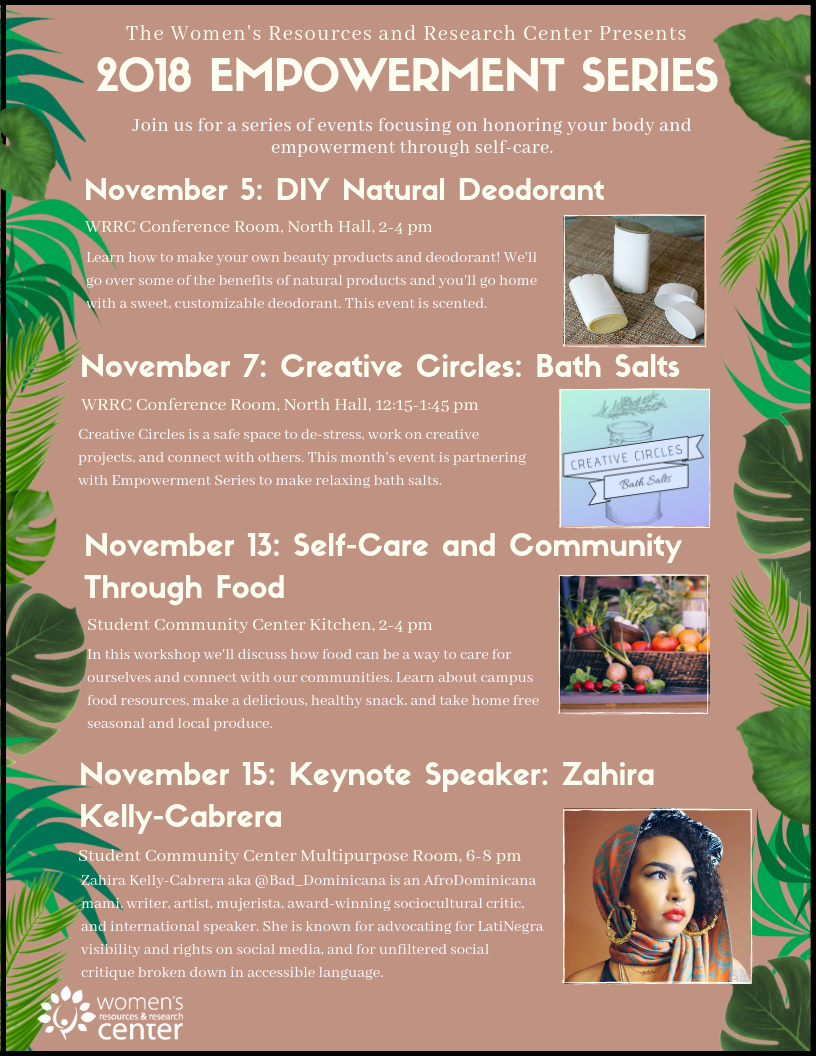 2018 Empowerment Series
Previously known as the Empowerment Conference, the Empowerment Series is a revamped and restructured program with similar program goals. Similar to the Empowerment Conference, the Empowerment Series seeks to create a space for participants to explore gender at the intersections of identity. Rather than hosting workshops for registered participants in one day, the Women's Resources and Research Center hopes to engage more participants by hosting workshops and events throughout fall quarter. Like Empowerment Conference, the Empowerment Series integrates a common theme throughout the quarter and closes out with a guest speaker.
This year's Empowerment Series focuses on honoring your body and empowerment through self-care. All events are free and open to the public. All attendees can enter to win prizes from Zahira Kelly-Cabrera's shop! Winners will be chosen at the November 15 keynote.
November 5: DIY Natural Deodorant
WRRC Conference Room, North Hall, 2-4 pm
Join us to learn how to make your own beauty products and deodorant! We'll go over some of the benefits of natural products and you'll go home with a sweet, customizable deodorant. This event is scented.
November 7: Creative Circles: Bath Salts
WRRC Conference Room, North Hall, 12:15-1:45 pm
Creative Circles is a safe space to de-stress, work on creative projects, and connect with others. This month's event is partnering with Empowerment Series to make relaxing bath salts.
November 13: Self-Care and Community Through Food
Student Community Center Kitchen, 2-4 pm
In this workshop we'll discuss how food can be a way to care for ourselves and connect with our communities. Learn about campus food resources, make delicious snacks, and take home free seasonal and local produce.
November 15: Keynote Speaker: Zahira Kelly-Cabrera
Student Community Center Multipurpose Room, 6-8 pm
Zahira Kelly-Cabrera is an AfroDominicana mami, writer, artist, mujerista, award-winning sociocultural critic and international speaker. Come through for critical dialogue and the opportunity to win raffle prizes!