COVID-19 STEM for Girls Updates
Due to the current concerns with COVID-19 and the guidelines shared by UC Davis and the State, all in-person events hosted by the WRRC have unfortunately been cancelled for Spring 2020 including STEM for Girls 2020. We know that many of these events provide our community with opportunities to connect and share space, so we are working hard to provide virtual program and event opportunities for folks. Please check back here and on other program specific sections of our website for further information. We look forward to seeing you for STEM for Girls 2021!
About
STEM for Girls invites 10 - 12 year old students from the Woodland and Sacramento areas to the University of California, Davis for a full day immersion into science, technology, engineering, and math (STEM). Our goals are to expose students to STEM fields, build confidence in their abilities to participate in STEM, and introduce them to relatable and accessible STEM role models. 2020 will be our 10th annual STEM for Girls and we cannot wait to introduce more students to the exciting and empowering world of STEM!
Impact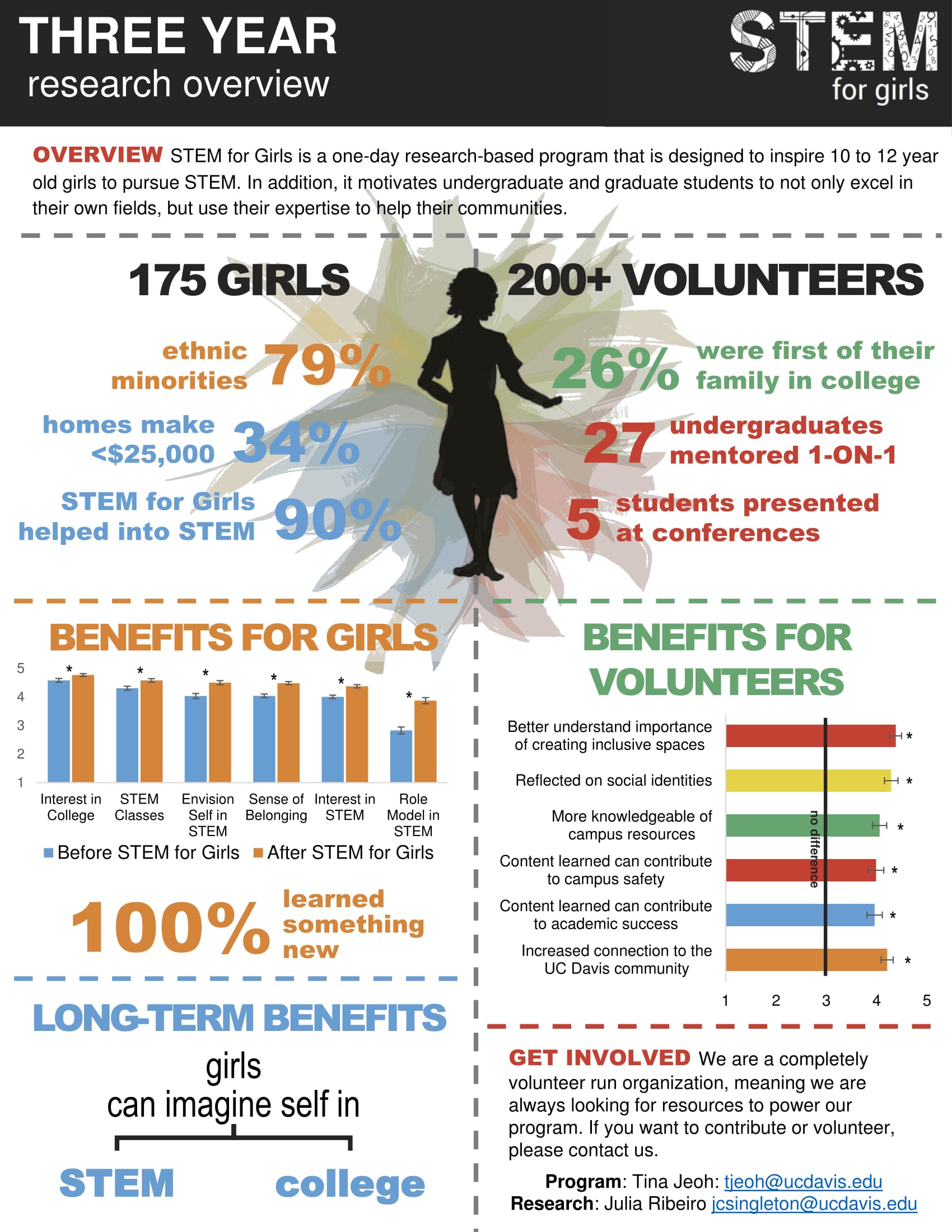 We aim to increase interest in STEM, build a sense of belonging in STEM, connect underrepresented minorities with STEM role models, and more. Each year, we measure our impacts. This allows us to objectively analyze our progress, evaluate which areas need improved, and, when results are positive, advocate for our organization. We are incredibly proud of the impacts we have made on our visiting students and volunteers
Team Leaders: You will lead groups of 10 youth participants with a partner to the different workshops, lab tours, demonstrations and answer any questions the girls may have. Team leaders must pass a background check and participate in a mandatory in-person and online training prior to the date of the event. The application for this position is open now.
Volunteers: Are needed to help make this event happen! Volunteers have the opportunity to help with registration, clean-up, set-up, and other logistics.
STEM for Girls Team
Sara Blair-Medeiros, Assistant Director for Outreach (WRRC)
Laney Casella, PhD Student  (College of Engineering)
Erin Doherty, PhD Student (College of Letters and Science)
Dr. Tina Jeoh, Faculty (College of Engineering and College of Ag and Environmental Science)
Hyun Kim, PhD Candidate (College of Engineering)
Lucy Knowles, Graduate Student (College of Engineering)
Nichole McNabb, PhD Student (College of Ag and Environmental Science)
Jessica Mizzi, PhD Student
Garbhita Shah, Student STEM Coordinator (WRRC)
Taylor Voelker, PhD Student (College of Ag and Environmental Science)
Donation
Donations can be made by visiting the STEM for Girls Give Page!
Thank you for your donation! Please contact Sara Blair-Medeiros at slblair@ucdavis.edu if you have questions about donating to STEM for GIRLS