COVID-19 STEM Updates
Due to the current concerns with COVID-19 and the guidelines shared by UC Davis and the State, all events hosted by the WRRC will be hosted virtually and any in-person offerings will observe all social distancing/health guidelines outlined by the State of California, UC Davis, and CDC. We know that many of these events provide our community with opportunities to connect and share space, so we are working hard to provide a variety of shared spaces, events, and programs for community members on a number of different platforms.  Please check back here for further information and sign-up to receive STEM related information through the STEM email list, below. 
Visit Our Virtual STEM Resource Office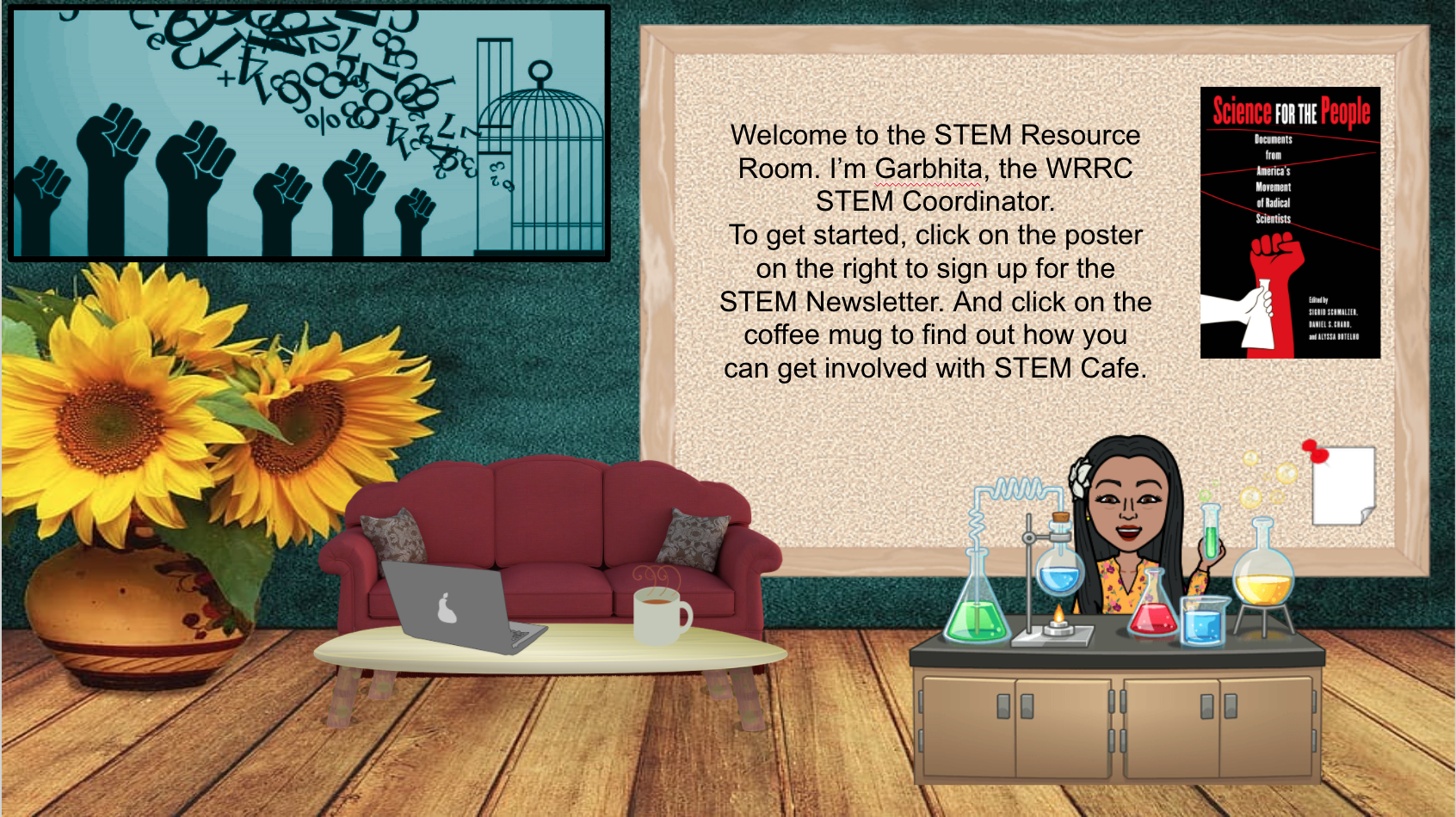 STEM Cafe
STEM Cafe is a free academic support service that seeks to create an inclusive space for womxn, trans*, nonbinary, and gender expansive scholars to receive support in Math, Sciences and Coding. STEM Cafe will take place weeks 8 and 9 on Mondays and Tuesdays.  Academic support volunteers are upper-level undergraduate students, graduate students and faculty. If you are interested in volunteering please email gshah@ucdavis.edu. All STEM Cafe sessions will be held remotely via zoom. You can find out more about how to register for STEM Cafe by email gshah@ucdavis.edu.
Fall 2020 Schedule: Weeks 8 and 9 on Mondays and Tuesdays.
WRRC: Women in Science & Engineering (W.I.S.E.) Program
The WiSE Program aims to center folx with marginalized gender identities (womxn, womxn of color (WOC), Trans, gender non-conforming, non-binary folx, etc.,) in STEM fields by providing a supportive, gender positive environment in which students work together with mentors to achieve their academic and professional goals. WiSE has focused attention on changing the academic environment for folx with marginalized gender identities in STEM fields by researching barriers to their success and developing programs that reduce or eliminate these barriers. Our programs for students focus on participating in their engineering and science education from the first year college through the graduate level. WiSE recruits participants and mentors in the Fall quarter and uses the Winter and Spring quarters to meet and attend socials and professional development sessions planned and facilitated by the WRRC and campus partners. Please email wrrc@ucdavis.edu if you have questions about the program.
Applications for the 2020-2021 academic year will be open Fall 2020.
STEMinist in the Workforce
STEMist in the Workforce is a facilitated dialogue based program aimed at providing a safe space for the STEM community to talk about the barriers that STEM folks with marginalized gender identities face everyday. These sessions will include a presentation on a selected topic followed by a facilitated panel and dialogue. Lunch will be provided. To learn more please sign up to receive emails from the STEM-Related Programs Email List. 
We will be recruiting panelists (graduate students, faculty, post-docs, or STEM staff/researchers). If you are interested in applying to become a panelists, please contact gshah@ucdavis.edu. 
STEM-Related Program Email List
The Women's Resources and Research Center invites graduate and undergraduate students to sign up for our STEM-Related Programs Email List.
By signing up you will receive weekly emails on the following:
STEM Related Updates
STEM Cafe 
Womxn in Science and Engineering (WiSE) Mentorship Program
Womxn in STEM Week
Steminists in the Workforce Series
Community Related Opportunities