STEM Cafe
STEM Cafe is a free academic support service that seeks to create an inclusive space for womxn, trans*, nonbinary, and gender expansive scholars to receive support in Math, Sciences and Coding. STEM Cafe runs during weeks 4-6 and 8-10.  Academic support volunteers are upper-level undergraduate students, graduate students and faculty. If you are interested in volunteering please fill out the Academic Support Volunteer Application form or email wrrc@ucdavis.edu. All STEM Cafe sessions will be held at 113 North Hall in the Joy Fergoda Library. 
Fall 2018 midterms schedule: Monday 10/22, 10/29, 11/5 and Wednesday 10/24, 10/31, 11/7 from 5pm-7pm in the Joy Fergoda Library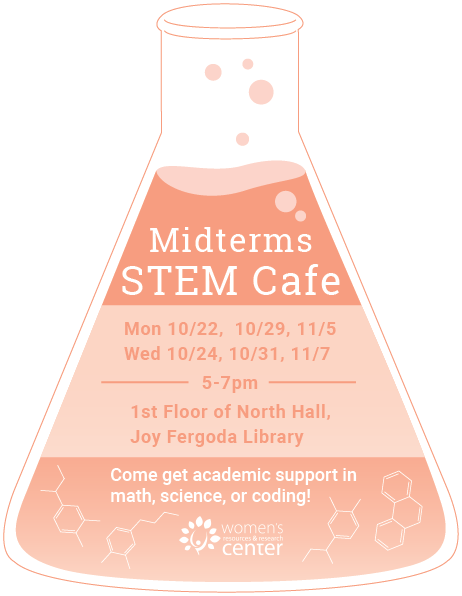 Fall 2018 finals schedule: Monday 11/19, 11/26, 12/3 and Wednesday 11/28, 12/5 from 5pm-7pm in the Joy Fergoda Library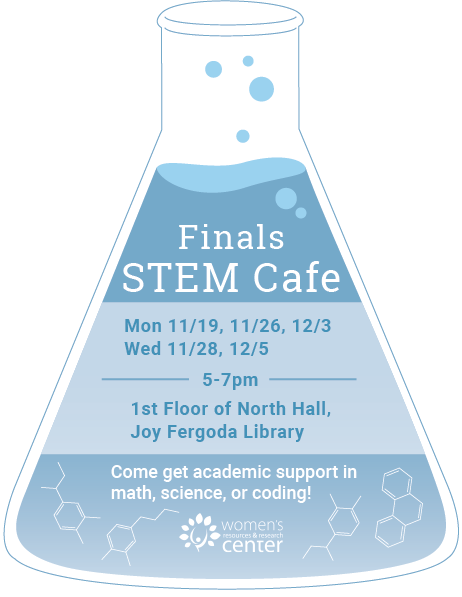 WRRC: Women in Science & Engineering (W.I.S.E.) Program
WiSE is a developing program that establishes engineering and sciences as a place for women to reach their goals. WiSE has focused attention on changing the academic environment for women in engineering and science by researching barriers to their success and developing programs that reduce or eliminate these barriers. Our programs for students focus on participating in their engineering and science education from the first year college through the graduate level. WiSE recruits participants and mentors in the fall quarter and use the Winter and Quarter to meet and attend social planned and facilitated by the WRRC. Please email wrrc@ucdavis.edu if you have questions about the program.