Wellness Programs
The WRRC will be offering a number of programs throughout the year, both in-person and remotely. Here you will find information on the WRRC's wellness programs that are offered. These programs are founded in our belief that investing in yourself is important. We hope to see you at one of our programs this year!
WRRC Healers In Residence
Meet the Women's Resources & Research Center Healers in Residence (HIRs): Jessica and Bureen! Both of our HIRs offer appointments virtually and bring a number of different healing modalities to our community. Booking for HIRs is currently paused. Check back here and on Instagram for updates. 
Jessica, they/them or she/her, is a first-generation queer xicana, an astrologist & social justice educator. Jessica facilitates birth chart readings, full/new moon readings (check out @cosmicchisme) & offers astrological knowledge to students, staff, & faculty interested in learning more about their life purpose, and motivations. Jessica especially enjoys working with queer and trans people of color in discovering their own healing and magic.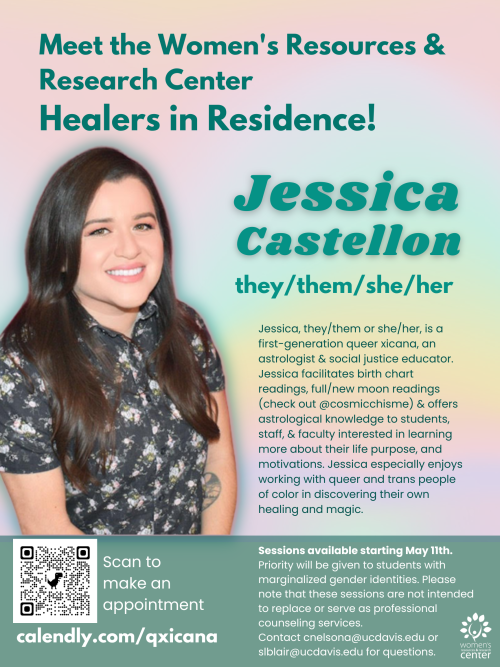 Bureen is an intuitive healing guide, writer, and teacher committed to helping others see themselves as the powerful, self-healing, magickal beings they are. She uses her gifts of intuition and training in reiki and breathwork to gently hold space for clients to take charge of their own healing and step into their highest and best self-actualization.