COVID-19 Event Updates
Due to the current concerns with COVID-19 and the guidelines shared by UC Davis and the State, all in-person events hosted by the WRRC have unfortunately been cancelled for Spring 2020. This includes the events listed below. We know that many of these events provide our community with opportunities to connect and share space, so we are working hard to provide virtual program and event opportunities for folks. Please check back here and on other program specific sections of our website for further information. 
Wellness Programs
The WRRC offers a number of programs throughout the year. Here you will find information on the WRRC's wellness programs that are offered. These programs are founded in our belief that investing in yourself is important. We hope to see you at one of our programs this year!
Chillin' on the Porch
Chillin' on the Porch is hosted each quarter on the WRRC's front porch. Participants are invited in to participate in various self-care and creative activities facilitated by WRRC volunteers, interns, and staff. Past activities have included: 
Designing your own bookmark
Making your own button
Making your own tincture with the Student Farm
Collage art 
and much more!
Check our calendar for updates about upcoming dates and times. 
Creative Circles
Creative Circles is hosted and facilitated on a monthly basis by a CAN counselor and WRRC staff. This creative space encourages, students, staff, and faculty to engage in art as tool for decompression and stress management. All supplies are free and provided for participants.

Time and Location: TBD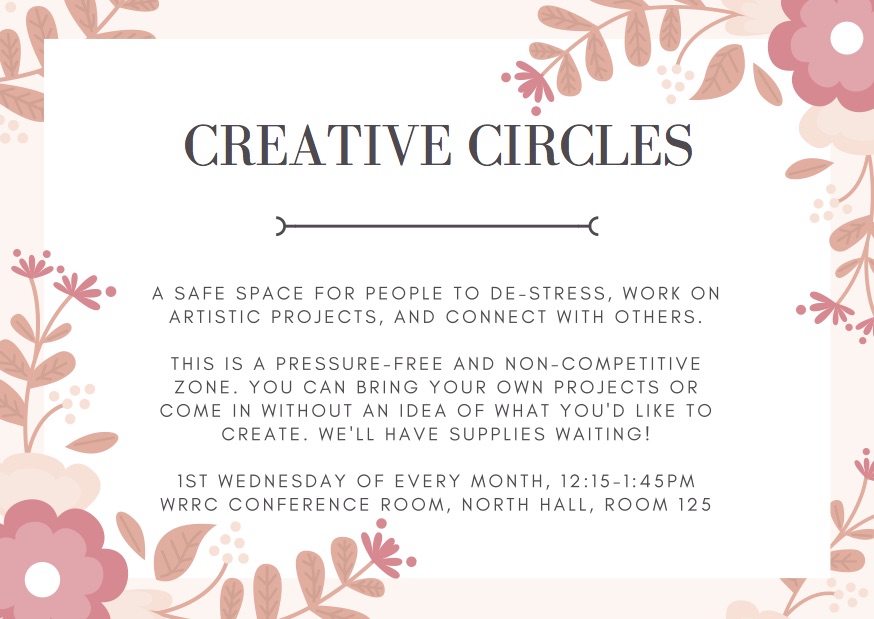 Faculty and Staff Womxn of Color Group
This program is an informal gathering space for UCD faculty and staff who identify as womxn of color to build community. While this is not a therapy group, it is a space to share experiences and strategies for self-care in a private setting. This program is done in collaboration with the Academic and Staff Assistance Program. Registration for fall and winter quarter is currently open.