Through a series of performances, the production of OurStories centers the impacts of gendered violence on the community in order to create visibility, educate, and work to end systems of oppression. Central themes of OurStories include violence, empowerment, and healing. OurStories serves as a space in which those impacted by gendered violence, and/or those wishing to engage with their narratives through performance can share their stories and connect with other members of the community. OurStories is a space for folx of all identities (including, but not limited to womxn, trans and non-binary folx) to share their truths, find community through creativity, and engage community in dialogue around creating inclusive space for survivors and marginalized groups. 

Originally inspired by Eve Ensler's "The Vagina Monologues," the production of OurStories has changed throughout the years. It has been known as Vagina: HerStories, Vagina: OurStories, and most recently, Vagina*OurStories -- these changes to the title have all reflected the efforts of the WRRC to make the performance more inclusive of marginalized gender identities. Given the current and historical context of transphobia in feminist movements, the name change to OurStories seeks to challenge cis-centered narratives surrounding gender. Moreover, the program intends to highlight intersectional experiences in an effort to dismantle all systems of oppression. 

The performance will take place at the Veteran's Memorial Theater, 203 E 14th St, Davis, CA 95616 in early March.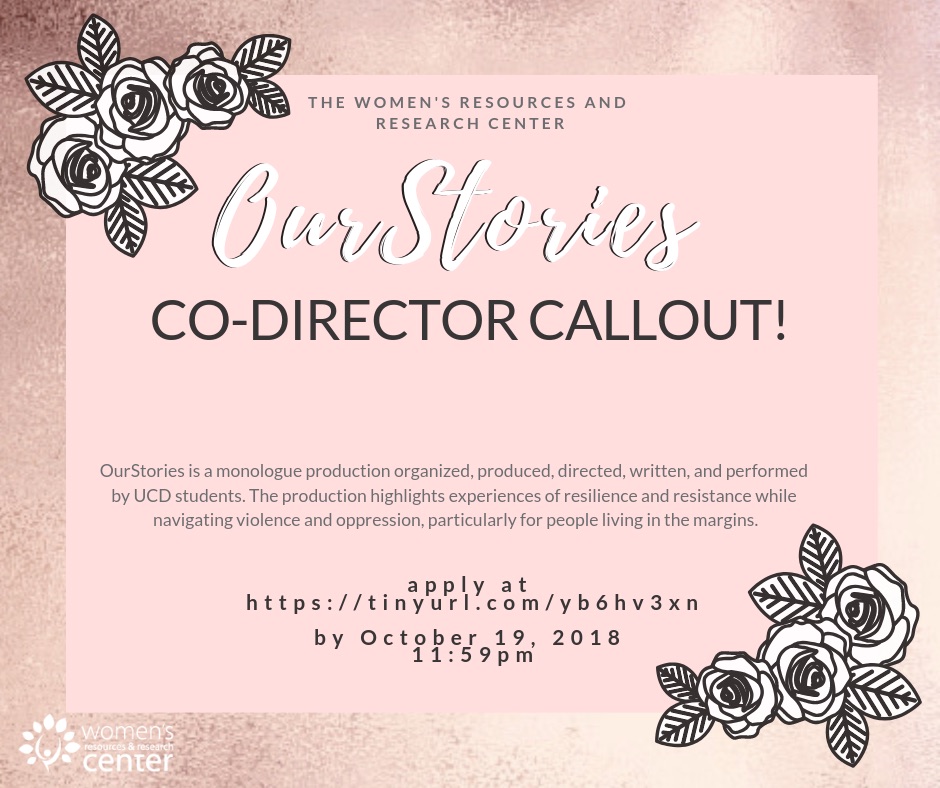 OurStories Co-Director Call Out
Apply to be one of the OurStories Co-Directors. 
OurStories Co-director Internship Position
The two (2) co-directors of OurStories will work collaboratively with each other, WRRC staff, stage managers, and cast to create the show. The position begins in Fall quarter and continues through Winter quarter until the end of the production. Previous directing or theater experience may be helpful, but no prior experience is necessary.
Fall quarter responsibilities include:
Collaborating with WRRC staff to develop a vision for the production
Facilitating stage manager interviews with WRRC staff and recruiting stage managers
Facilitating cast auditions with WRRC staff and participating in cast selection process
Developing agendas for rehearsals to take place during winter quarter
Winter quarter responsibilities include:
Organize a cast / crew meet and greet with WRRC staff
Select pieces for non-writing cast members to perform (with their input)
Lead bi-weekly (twice per week) rehearsals
Develop a vision for the overall performance
Give feedback to performers regarding: Piece length, Piece content, Performance of piece, Stage presence
Set deadlines and hold cast accountable to strict memorization deadlines
Choose the order in which pieces will appear in the performance with WRRC staff
Coordinate with stage managers and cast to learn timing of entrances / lights
Foster a safe environment for the cast to feel empowered by the OurStories experience
Emcee the production
Benefits to this internship:
Develop your leadership and organizational skills
Gain experience and practice working in social justice spaces
Internship Credit via the Internship and Career Center
$500 stipend disbursed at the end of internship
Applications are due: October 19, 2018 at 11:59pm
Interviews will be held: October 22 - October 30, 2018
We welcome and encourage applications from all UCD students, in particular students with marginalized identities included, but not limited to people of color, people with disabilities and those with queer, trans, non-binary, undocumented, identities and experiences.
Accessibility Information:
Fragrance Free: Out of respect for our community members with (MCS) Multiple Chemical Sensitivity, we ask you to please not wear scented products.
Wheelchair Accessible: Veterans Memorial Theater is wheelchair accessible.
Restrooms: all restrooms will be gender inclusive.
For additional accommodations please contact the WRRC: 530.752.3372, wrrc@ucdavis.edu